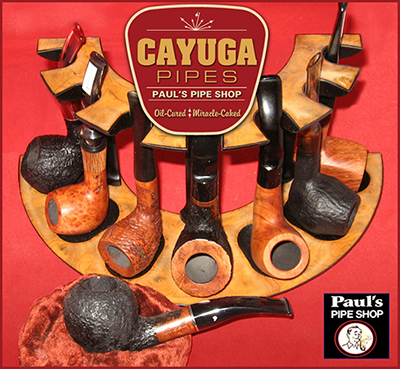 What Is A Cayuga Pipe?

"OIL CURED & MIRACLE CAKED"
Paul's own brand, Cayuga pipes are oil cured by a special process at 410 degrees Fahrenheit to mellow the briar and open the pores. Oil curing makes the pipe smoke cooler and dryer, and also lighter in weight. Also every one of the Cayuga pipe bowls are treated with a "MIRACLE CAKE" which makes the breaking in of the pipe a pleasent smoke right from the start. There are no filters of any kind in Cayuga pipes, which makes cleaning them much easier -- you can run a pipe cleaner through without taking them apart.

Become a Cayuga Member Today!
Become a Cayuga Member by purchasing a Cayuga Pipe.

Cayuga Membership Benefits:
Buy 12 Cayuga Pipes and Get The 13th Free, Once a Month Get One Ounce of "Featured Tobacco" Free, On the Month of Your Birthday Get Any One Pipe 20% Off.