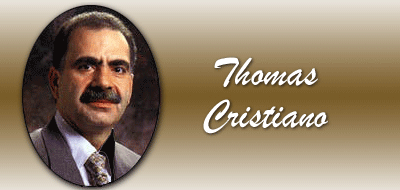 When the Cristiano family came to America from Calabria, Italy, in 1968, they brought with them a wonderful and unique talent: pipe making. As the maestros of this craft, the Cristiano family has for nearly two decades, shaped and honed the rare, beautiful -- but tough -- briar-root into some of the world's most valued and treasured pipes. They have practiced their art at Calabresi Smoking Pipes, Inc. creating handsome wooden pipes for the largest pipe companies, as well as custom designing pipes for individual special requests.

At age 17, Thomas Cristiano was working in the pipe industry. "I was a floor boy for S.M. Frank & Company," says Cristiano.
"I counted and graded blocks of wood, categorized them, counted and selected pipes and put them in stock." He has come a long way since then, but every step of that journey has been dedicated to pipes.

The Cristiano's briarwood pipes are magnificently crafted by both hand and machine from the root of the wild briar shrub, which grows only in the Mediterranean region. Shrub harvesters cut the root into chunks that are later selected by pipe makers based on the grain and quality of the wood.

Thomas Cristiano's pipes are separated in to two main marks: Calabresi and T. Cristiano. The lines expand the horizon from filter pipes to exquisite freehands and classic shapes with ornate details made from precious metals such as gold and sterling silver.

In the Calabresi line there is the Budget line, the Algerian Imports, Italian Imports, Spindrift, Danesi Series, Massicia Series, Metamorfosi Series, Raffaele Series, Free Forms, Cesare Series, and Fancy.

The T. Cristiano line begins with the T. Cristiano, then the VSQ Series, Metamorfosi Series, Bosso Series, Phidias Series, and finally the highly sought after T. Cristiano Signature Series.